Hunts Point Residents Protest School Merger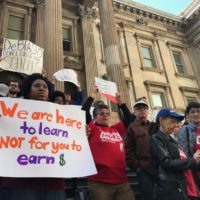 HUNTER COLLEGE–Hillary Cacho should be thinking about her high school graduation next year. But since the city's recent proposal to merge her high school, Holcombe L. Rucker, with another local school, Longwood Preparatory Academy, Cacho doesn't even know which school she'll be graduating from.
Holcombe Rucker is one of 19 schools in the Renewal School Program, a program the city's education department implemented three years ago to support low-performing schools in danger of being closed or consolidated this year because of poor attendance and test scores.