Olympic Push Takes Craftsmanship for These Teens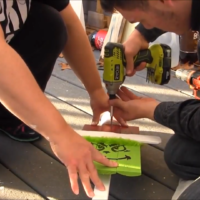 BARUCH COLLEGE–Adam Rotbart and Logan Witte, two teens from Long Island, are working hard to try to fund their dream: to compete in the 2020 Olympics.
As members of the USA National Junior Karate team, they compete in tournaments around the country and the world. To be eligible for the Olympic Games in Tokyo in 2020, they need to gain points from the various competitions.