Bronx Doc Students Take Home National Prizes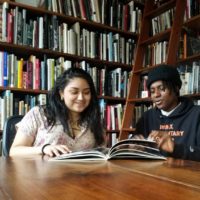 HUNTER COLLEGE–There's a shot that shows a man on the dark street outside a Melrose church, his upturned face lit only by the soft yellow light from a passing car. Another captures a cop bathed in the pink glow of a neon sign, looking past the camera while on patrol. In another, a woman in a lavish red headdress is showered with dollar bills during a West African bridal party.
These are some of the New York City moments captured by the lenses of the Bronx Junior Photo League, a group of high school students who study photography every week at the Bronx Documentary Center in Melrose, and then spend much of their free time behind the viewfinder. They have used their cameras to document the lives they see around them, and to make sense of their own. And they have spent hours honing their craft, learning the technical elements of photography and developing an eye for composition. Now, their work has been recognized on a national level.