Community Rallies for Sheridan Expressway Plan Reversal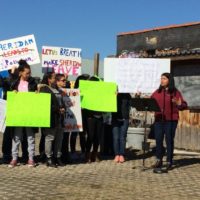 HUNTER COLLEGE–Community groups and residents are calling on the state to reverse part of its plan to reconfigure the Sheridan Expressway, saying that the new on-ramps will ruin local waterfront parks and thwart access to the Bronx River.
The plan, they say, was finalized without their input and will only heighten the environmental hazards in the neighborhood and risk pedestrian safety. The state's plan would use Edgewater Road as the main access to the Hunts Point food markets for trucks. The community plan would use Oak Point and Leggett avenues instead, with ramps constructed over the railyards.