Q&A: Work Options for J-1 and F-1 Visas Recipients in the United States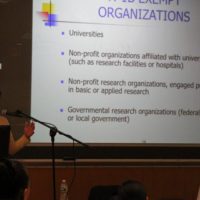 YORK COLLEGE–York College Career Services invited immigration attorneys Mark B. Rhoads and Helen L. Konrad to address questions regarding work opportunities in the U.S. for students with F-1 and J-1 visas on Feb. 13. The event was also sponsored by Queens College.
Rhoads and Konrad provided legal work options that are available for F-1 and J-1 visa students in the U.S. Both are directors in the Immigration Practice group at the firm McCandlish Holton. They were able to clarify any questions in a Q&A session with PB, students and attendees who shared inquiries on working authorization and education visas.