Maine Voters & the Midterms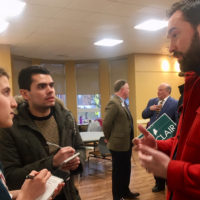 BARUCH COLLEGE–With dying industries, an aging population and a contested House seat, Maine's 2nd Congressional District offers a snapshot of voter sentiment ahead of this year's elections. We explore a struggling former mill town and examine how national issues are playing in rural Maine.
Will local or national issues prevail?
READ, WATCH AND LISTEN TO REPORTING FROM THE SERIES HERE