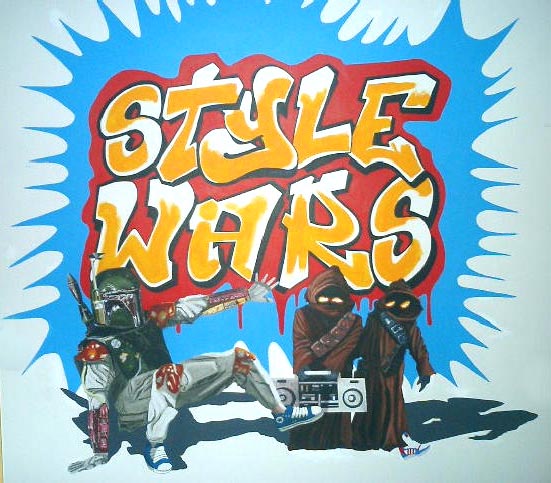 By Erick Peguero.
On August 20, the Arts in the Gardens series at the Bronx Museum of Art presented a special screening of Style Wars. The award winning original hip-hop documentary was produced and directed by the late Tony Silver, and was shown as part of New York Restoration Project Target Bronx Community Garden project.
Style Wars is a 1983 documentary based on hip-hop culture with a heavy focus on graffiti. The film also covers rapping and break dancing, which was very popular during this era. The film targets young adult and teen audiences.
Shot in the Bronx, Style Wars focuses on teenagers during the 80's who made graffiiting or "graffiti bombing" their life. These teenagers "bombed" subway cars, buses, buildings, basically anything they could find. Artists would gather in groups and sketch ideas together for their next project. A confused mother of one teen questioned her son who was an artist on why he "bombed" and the teen stated, "I do this for me, not for no one else to see, but for me." Some parents disapproved because graffiti could earn you a total of 5 years in prison.
Graffiti in the neighborhood grew at rapid pace when the artist Taki started "bombing" everywhere he went. This was when the "war" began. Everyone wanted to become famous just like Taki. The "war" was just to see who could get more famous. He inspired others to start "bombing" all over New York and that was when many artists began competing for the best style.
One of the most remarkable scenes of the documentary, is when a white artist around the age of 17 said that he buys spray paints for his counterparts. His skin color allows him to make purchases without suspicion. "No one accuses a white boy of doing graffiti," he states. Cops at that time largely arrested blacks and Latinos for the crime.
The end of Style Wars shows how the graffiti trend had experienced a time of declination during the late 80s. Evidence of this was seen by posters being put –with messages such as, "Take it from the champs, graffiti is for chumps" and, "Make your mark in society"– in train stations to combat the new trend. Hector Camacho and Alex Ramos, famous boxers at that time, along with other notable celebrities stressed the important of keeping walls clean, shaming local artists.
This result was teenagers putting their graffiti artwork on canvases and displaying it in museums. The film captures the feel of the Urban 80's with the hip-hop and rap music that plays in the background. The director catches the atmosphere of the Bronx. For example, an aerial shot in a black and white filter captures the busy 149th street and Grand Concourse train platform. Although Style Wars was filmed in the 80's, the audio and resolution quality is clear.
The film demonstrates that graffiti is an art that made and continues to make New York City different from other places. Artists in the 80's wanted to publically and creatively express themselves. Graffiti served not only as art, but also as a trademark made by each artist to represent personality and often, originality.