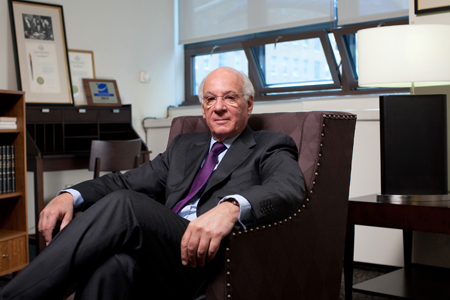 The CCNY alum gets mostly good reviews for his tenure as CUNY's chancellor by Melissa Gutierrez
Earlier this month, Matthew Goldstein announced he's retiring as CUNY chancellor this summer. After 14 years in the job, Goldstein, 71 is credited with increasing enrollment, improving student performance, raising academic standards, making admissions requirements more rigorous, and contributing to the prestige and success of university graduates. He created the Macaulay Honors College, the CUNY Graduate School of Journalism, the CUNY School of Professional Studies, the CUNY School of Public Health, and the New Community College.
In his retirement letter, Goldstein describes CUNY as "a transformed institution, re-energized by the creative, dedicated work professionals across our 24 colleges and professional schools." Benno Schmidt, chairman of CUNY's board, says, "Chancellor Goldstein has led the unprecedented transformation of CUNY into the premier integrated urban university in America."
An alum of, yes, CCNY (class of '63) Goldstein graduated from our college with a bachelor's with high honors in statistics and mathematics. He obtained his doctorate in statistics from the University of Connecticut, and was the first CUNY graduate to become chancellor.
Despite his connection to City, most students aren't too familiar with Goldstein's resume. "I don't know that much about him, says Monica Guzman, a 22-year-old MCA major. "But from what I do know, he has helped CUNY a lot like by opening a lot of the schools and getting more money for CUNY."
Even among those who admire Goldstein, many aren't fond of his Pathways initiative. Created by the chancellor, this system allows students to transfer credits across CUNY colleges. It saves students money and helps them graduate quicker, but many students and faculty think it "dumbs down" the university. Dr. Manfred Phillip, a CUNY chemistry professor, is one of them. "Pathways means less time in writing classes, reduced foreign language study, and less rigorous basic science classes without lab work," he explains.
"At first, Pathways sounds nice," adds Guzman. "But after looking into it, it seems like I'll still have trouble transferring or won't have all my credits. I just wouldn't trust it."
As he leaves office, Goldstein stands behind Pathways, insisting that it improves the quality of education. He remains hopeful about CUNY's future. He says: "Going forward, I know that the University's mission will only be invigorated by the innovative work and collective efforts of our remarkable CUNY community."