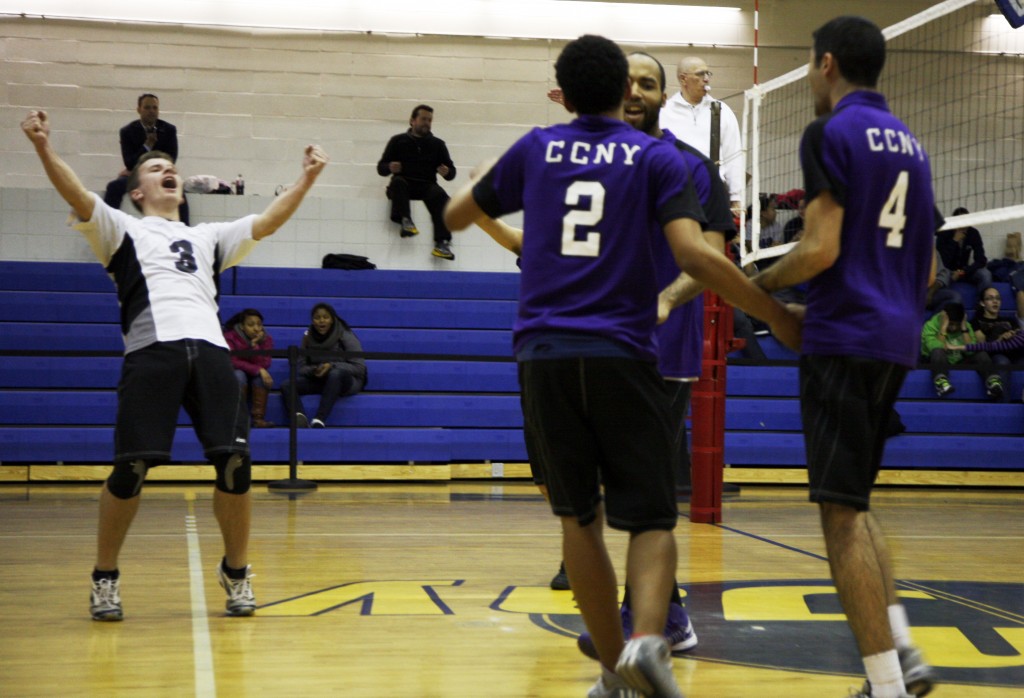 CCNY celebrates their third win in the last four matches after narrowly defeating John Jay Thursday night.
Photo by Jeff Weisinger
It may have taken all five sets to clinch the 3-2 win (23-25,25-20,25-21,25-17,15-11) at John Jay, but the late-match rallies are nothing new for the CCNY's Men's Volleyball team.
"Today was tough," head coach Daniel Crespo said after the game. "This was a little bit nerve racking."
Both teams split the opening two sets with the Bloodhounds taking the first set 25-23 and CCNY going on a 5-0 run to take the second set 25-20.
However the Beavers ran into a little bit of trouble in the third set, as John Jay exploded for a 5-0 run after both teams traded kills back and forth to open the third set tied at five. CCNY rallied midway through the third set to tie the match at 11, and then again at 17, but John Jay would end the set on an 8-6 run to capture the third set to go up 2-1.
"The biggest difference was the energy," senior Nicholas Siriban said as the Beavers jumped to a 19-9 lead in the fourth set en route to a 25-17 win to tie the match at two-a-piece, sending it into the fifth and final set.
The Beavers started slow in the fifth set, finding themselves in a 6-3 hole before rallying to a 5-1 run to take a 8-7 lead as the teams switched sides midway through. In the second half of the fifth set, CCNY completed the rally, ending the game on a 7-4 run to seal the win.
The Beavers improved to 7-11 on the season 3-3 in the CUNYAC, and are 7-7 since opening the 2014 campaign 0-4. They are also 3-1 in the four matches that went the distance, only losing to York in five back on Feb. 18.
"We have the endurance. We're in for the long haul," Siriban explained. He tied with teammate Brian Yik Kim for a team high 14 kills on the night while Derrell Williams had 12.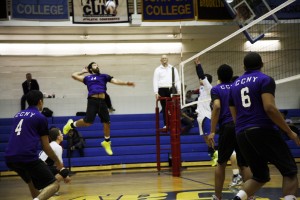 Siriban led the Beavers to a come from behind win with 14 kills Thursday night.
Photo by Jeff Weisinger
John Jay's Jack Palleschi had a game-high 17 kills on the night for the Bloodhounds.
"Winning has to be contagious," Crespo added. "All we can do is go one game at a time."
The Beavers return home for their final two home games of the season, starting on Wednesday against Medgar Evers and Thursday against Eastern Mennonite University. Both games set to start at 7 p.m.