By Sabrina Testi
DATELINE:CUNY–It has been 62 days since Russia invaded Ukraine, and colleges at the City University of New York mobilized to help students, friends and classmates affected by the war. CUNY hosts nearly 750 Ukrainian students, 25 of which have home addresses in Ukraine. The effects of the war have reverberated across the halls of schools.
On February 28, four days after the invasion, Chancellor Matos Rodriguez released a statement condemning the actions of President Vladimir Putin and pledging support to students. "Our hearts and prayers are with the Ukrainian people and with CUNY students, faculty and staff who are personally impacted by the devastating and revolting aggression," the statement read. Rodriguez announced counseling services would be made available for anyone seeking emotional or mental health support.
Beginning in March, CUNY organized panels in order to provide a safe space to teach, learn and ask questions about the ongoing conflict. At Brooklyn, Baruch, and Queens college, professors from the history and political science departments gathered to provide historical and political context of the war. Hunter hosted an open forum between students and experts on human rights and public policy.
The new student voice blog launched in March, CUNYverse, provided a platform for Oleksii Zalipa, a Ukrainian student at Baruch, to share his story. Zalipa says he has great appreciation for the work CUNYverse is doing in amplifying Ukrainian voices. "Many Ukrainians now feel like the time to speak up is now," said Zalipa in an interview with Dateline: CUNY. "This is precisely why such initiatives are important–they help reverse the damage done by the various imperialist forces who have struggled for control of our land for centuries."
In early March, John Jay senior, Edita Biro, launched the website for the non-profit organization she helped co-found Donation for Ukraine. Biro moved to the U.S. when she was 13 in order to escape potential conflicts with Russia. She still has family in Ukraine and as of early April, the organization has shipped more than 80 tons of aid via ships.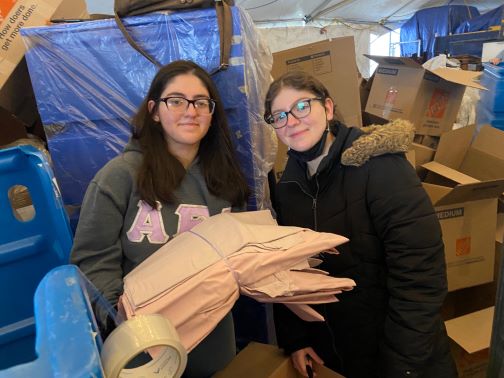 Also in March, 24 students from Brooklyn and Queens College partnered with the United Jewish Appeal of New York and the Afya Foundation for a volunteer effort that culminated with 3,750 pounds of medical supplies being collected for Ukraine and Poland. A month later, Brooklyn College's Tanger Hillel partnered with the Council of People's Organization to organize and package supplies to send to Ukrainian refugees. 
"You know that if young people like us start bringing attention to an issue, it is quite important," said Jason Galak, undergraduate student government chair of philanthropy at Baruch. "It's vital to support each other in a sad time like this whether it's by bringing awareness to the matter or raising funds." 
At Baruch, Galak helped organize a fundraiser for Razom, a Ukrainian non-profit organization. Galak's brother was displaced while working abroad in Kyiv and moved several hours away from the city. His brother continues to fundraise and ship supplies to Kyiv from a safer location outside of Ukraine.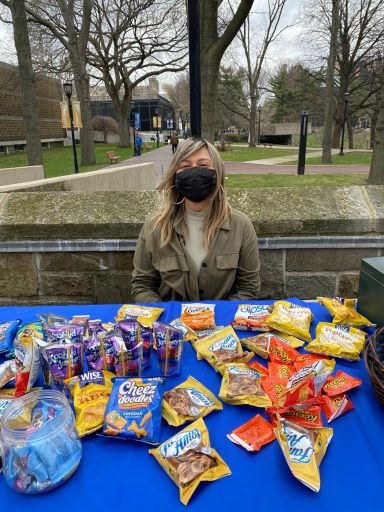 In the Bronx, at Lehman College, student leaders, along with faculty and staff, initiated a bake sale and raised $700 to donate to the World Central Kitchen efforts which would provide warm meals to Ukrainian refugees. 
"Students are quick to mobilize as they see the crisis unfold over the news," said Suzette Ramsundar, director of office of campus life. "They feel the need to do something, even though it may be very small."