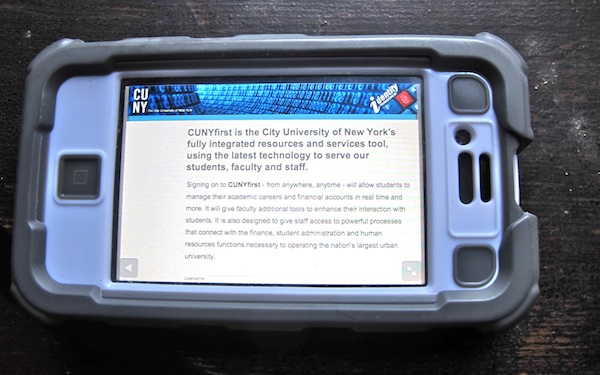 But why does everybody hate the new system? by Shanika Sealy
For five years, CCNY students have been using ESims to register for classes, pay tuition, and track academic records. But just as everybody's getting the hang of using ESims, the college is switching to a new system called CUNYfirst.
The bad news is that most of the other colleges are already using CUNYfirst–and they don't like it. "CUNYfirst is horrible," says Lehman student Carmelo Castillo.
CUNYfirst was designed as a fully integrated resources and service tool to streamline and standardize how things are done. Along with Lehman, Bronx Community College, Borough Manhattan Community College, Queens College and others are already using it.
City College officials confirm that we'll be making the switch in 2014. "Once it's running smoothly, then they will introduce it in 2014," confirms Jay Mwamba, CCNY communications coordinator.
But when will that be? If the experiences of Lehman students are any indication, it may never run smoothly. "CUNYfirst is a mess," says a source from Lehman, who preferred not to be identified. "Lehman should've of waited for the fall semester to go live."
CUNYfirst gets poor grades for user-friendliness. "I spent 45 minutes on the Bursar's office line. My classes were dropped because CUNYfirst was down," complains Bouazi Yessoh, a senior at Lehman.
"I had to change my password," adds Sheba Abraham. "My classes were dropped because I didn't put a hold on my classes."
"My account was on hold on because I owed money, but when I went to Bursar's office, my account owed no money," says Castillo.
CCNY's Mwaba says the opposite: "It's more efficient. No delays. Everything is integrated," he insists. "Students can lay in bed and register for classes and pick out classes. If the classes are closed, they can request permission online and don't need to come here and line up."
Even some Lehman administrators see the good in the system. "CUNYfirst has flaws, but it's not has bad as people think it is," says Amorette Betancourt, a college assistant at Lehman. "At first it was difficult, but I'm learning something new every day."
Betancourt adds, "CUNYfirst is a school planner for students. It's similar to Amazon website. You can put future classes in a shopping cart, plan out your semester, and go to your shopping cart to add and delete classes."
The train's out of the station, so complaining won't help. So with CUNYfirst less than two years away, Betancourt gives some helpful tips for first-time CUNYfirst users:
▪ Claim your CUNYfirst account.
▪ Take advantage of the CUNYfirst training before the system goes live.
▪ Use Firefox or Google Chrome.
▪ Use PCs instead of Mac systems.