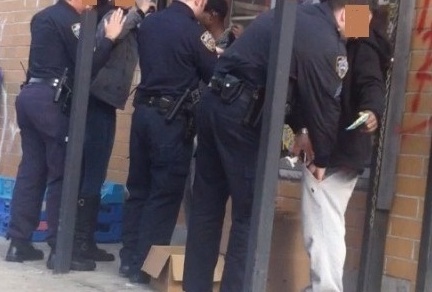 CCNY community talks about stop and frisk by Angelique Williams
"Imagine what it is like to walk down dark streets at night and have guns drawn." Khary Lazaree-White
On December 6, the Colin Powell Center and CCNY student organization Leaders Against Systemic Injustice hosted, "Stop and Frisk and Marijuana Arrest: Policing Communities of Color in Harlem and Beyond." Students, faculty, staff and the Harlem community attended the event that was held in The Faculty Dining Hall of the NAC, building.
"Every hour six people are arrested. The time we are here the NYPD has arrested twelve people for Stop and Frisk " Harry Levine says, who is an Professor of Sociology at Queens College. The Harlem community is special to him because his dad attended CCNY. The number one fact is although Blacks and Latinos have been arrested at a high rate with marijuana in their possession. White people are actually the ones who have been found to use it more.
Levine talks about an article published in the New York Times "Whites Smokes Pot, but Blacks Are Arrested". "There is a growing outrage to stop this if we hold firm. Despite all if this it remains in place, we are going to win, we will win!"
Delores Jones-Brown a Professor at John Jay College points out that the laws in place are now followed by many of the NYPD. In a case Ligon vs. City of New York (Clean Halls), a part of the NYPD's Stop and Frisk Program, which allows police officers to enter privately, owned buildings.
Landlords can also allow offices to enter a building with their permission. "I'm taking out the trash, but I'm going to commit a burglary in my pajamas." Delores says, about people who are arrested at their buildings.
"Teach street law and know your rights" is how Khary Lazarre-White feels. Lazarre-White, the Executive Director and Co-Founder of The Brotherhood SisterSol is all about providing family support at his center.
Stop and Frisk touches home for Lazarre-White because not only does he live in the community but also many of the members at his center have been affected greatly. Nicholas Peart was stopped on his 18th birthday while walking to the store with his cousin. Police gunned him down to the ground and when the officer found his wallet, and saw his ID he dropped it on his back and said, "Happy Birthday" sarcastically.
CCNY Senior and Student Rep of Groups that come together for Stop and Frisk, Rakim Jenkins has dealt with it a numerous amount of times, to an extent where he can't remember how many times it has happened. He asks a question that many should think about, "Why are we stopping and frisking our future? Why should we walk down Malcolm X Blvd scared of people that are suppose to protect and serve us?"
"Everyone in the room and outside the room we need to act today." Jenkins says, ending the discussion for the evening.