"Women know how to push and how to deliver" – Assembly Member Gabriela Rosa
This past Friday, October 25th, CUNY conducted their 9th annual Women's Leadership Conference. No, it was not eight hours of lessons on childrearing or how to clean the kitchen properly. Does that sound silly considering women have all the rights they could ever ask for in the 21st Century? Well, contrary to popular belief, women are still struggling to find their footing in the corporate and political world – but that is changing.
This year's conference was called "Leadership Lessons Learned: Look Ahead" and took place at Hunter College. It was co-sponsored by Chase Bank, The NY Times, and NYC Commission on Women's Issues. It had pulled in some of the most influential and high-powered women across New York, including: Rossana Rosado, Publisher and CEO of El Diario/La Prensa, Joanna Barsh, McKinsey & Company Director, several Assembly Members, and various CUNY Trustees, among many others. At the lunch break several companies had tables set up for participants to gather more information on internships, volunteer programs, educational opportunities, and various community building groups.
Ms. Rosado, CEO of El Diario/La Prensa, was the keynote speaker. She spoke about finding her way in a company of "cigar-smoking men" and eventually working her way to the top. In addition to overseeing a $22 million annual revenue and the day-to-day operations of the oldest-speaking Spanish language newspaper in the country, Rosado is a wife and mother to two teenage children.
One of the more animated presenters, Joanna Barsh, gave a comprehensive presentation of her book (which she co-authored with Susie Cranston) How Remarkable Women Lead. Her presentation covered five keys points: Meaning, framing, connecting, engaging, and energizing. One point that was particularly poignant and which she touched on was the work-life balance. To which she said, "There is no work-life balance. There is energy. When you wake up in the morning you need to say: what do I want for and of myself today?". She also stressed the importance of self-acceptance.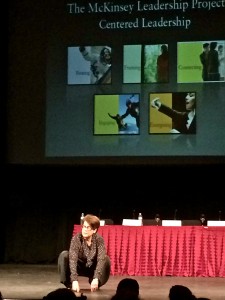 Overall, it was a wonderfully conducted conference. The speakers and panelists were not only strong, successful women but they had a passion for CUNY and its students. What is more, they were not out of touch with our generation – every piece of advice was useful and appropriate to our job market.